Welcome to Catnapin's
Grass Gallery
Poaceae, Panicoideae, Paniceae - Dallisgrass
(Family, Subfamily, Tribe)
---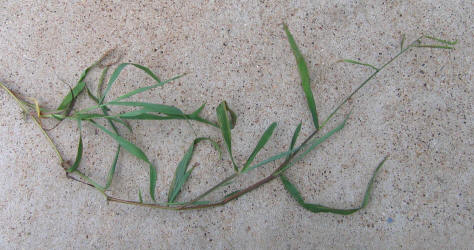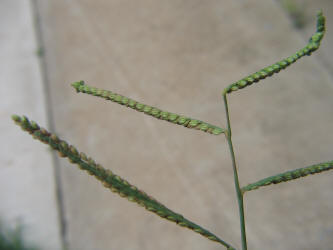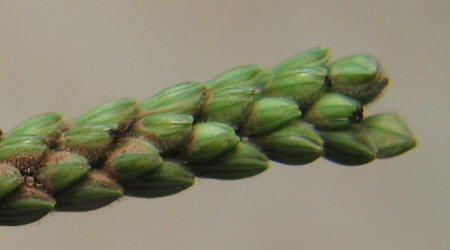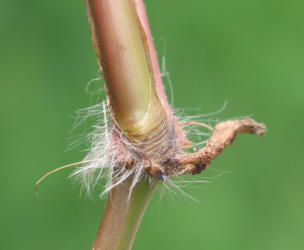 tribe Paniceae
Dallisgrass Paspalum dilatatum
Bunch grass with long branching runners that root at hairy nodes. Leaves are hairless. Seed heads at the end of runners, 2-7 opposite, wide spaced, up to 3" long, four rows of round-ish spikelets grow on one side of a flat branch. Good grazing grass, plant in bottomlands.
Photos taken in Taylor County, Texas, June-July 2007
(Introduced, native of Uruguay and Argentina - Taylor)
see similar Fall Panicgrass
---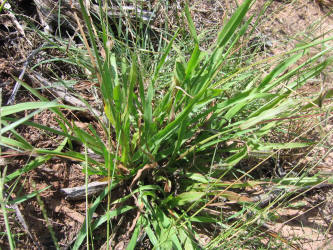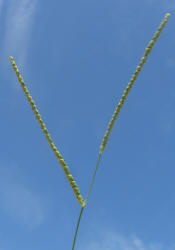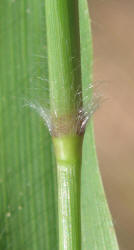 tribe Paniceae
Thin Paspalum (Fringeleaf Paspalum) Paspalum setaceum
Very thin culm with hairy nodes. Inflorescence is terminal, 1-3 branches spaced apart, plus single auxiliary branches at leaf nodes that may be enclosed in sheath. Can see opposite spikelet from the side. Short sheath has hairy margin. Leaves 2"-10" long, margins crinkly, usually hairy.
Photos taken in Taylor County, Texas, September 2007
(Native of Texas - Taylor, Jones, Brown)
---
Other Species In My Area
Longtom Paspalum denticulatum
Multiple alternating branches, dense spikelets. Branches become shorter near the apex.
(Native of Texas - Brown)
Knotgrass (Jointgrass, Ft. Thompsongrass) Paspalum distichum (Digitaria paspaloides)
Two branches from the same node. Short leaves.
(Native of Texas - Taylor)
Hairyseed Paspalum (Smoothseed Paspalum) Paspalum pubiflorum (Paspalum geminum)
3-5 thick branches, dense spikelets. Spikelets are hairy.
(Native of Texas - Taylor)
---
---
Email:
wildflowers"at"catnapin.com
to reduce spam, change "at" to @
please be specific

Copyright Notice: All photos are copyrighted and protected by the laws of the United States.
Unauthorized duplication for sale or distribution is prohibited.