Welcome to Catnapin's
Looks Like Grass, But Its Not Gallery
Cyperaceae, Fuirena - Umbrella Sedge
Waves of Grain Index - Not Grass
---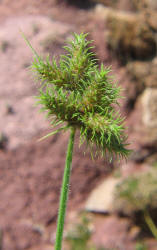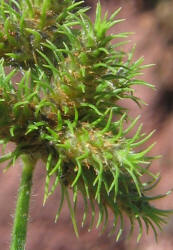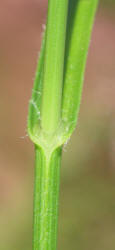 Cyperaceae - Sedge family, Umbrella Sedge Genus
Western Umbrella Sedge (Western Umbrellagrass) Fuirena simplex
Leaves up stem look like grass. 3-5 tiny green pinecones backed by one leaf, can have multiple on each stem. Perennial that spreads by rhizomes. Grows in calcareous boggy areas.
Photos taken in Taylor County, Texas, August 2007
(Native of Texas - Taylor, Brown)
---
Waves of Grain Index - Not Grass
Email:
wildflowers"at"catnapin.com
to reduce spam, change "at" to @
please be specific

Copyright Notice: All photos are copyrighted and protected by the laws of the United States.
Unauthorized duplication for sale or distribution is prohibited.