Welcome to Catnapin's
Plans to Build Your Own Tire Man
by Tom Cox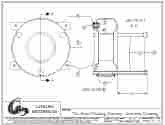 (a cheap alternative to a wooden man)
These plans guide you through the construction of a training dummy in easy-to-understand language.
The dummy can be made with flexible arm action or rigid arms that are nearly as stiff as a wooden dummy.
Materials needed: Used auto tire, PVC pipe, common hardware. Plans include a complete list of materials, which will run you under $20.00 US at the hardware store.
The unit may be mounted indoors or outdoors.
Please note that mounting on drywall walls is not recommended unless a half sheet of plywood is used to protect the wall.
Price: $5.00
Email:
MartialArts"at"catnapin.com
to reduce spam, change "at" to @
please be specific
Copyright Notice: All photos are copyrighted and protected by the laws of the United States.
Unauthorized duplication for sale or distribution is prohibited.