Welcome to Catnapin's
Tree and Shrub Gallery
Buckthorn Family
---
Rhamnaceae - Buckthorn family
Lotebush (Lotebush Condalia, Bluethorn, Graythorn) Condalia obtusifolia (Ziziphus obtusifolia)
Bush grows to 10 feet tall. Bark is whitish/gray with old wood browner. Tapered stems grow 90 degrees off the main stem are tipped with a red thorn. These tiny yellow flowers are about 3/16" wide. Reddish buds are about 1/8" wide. Blue/black berries are 1/4"-3/8" wide and grow on old wood and are edible but does not taste good. They are eaten by fox, raccoon, and birds. The roots can be made into a soap.
Photos taken in Taylor County, Texas, May - June 2004, new fruit April 2007
(Native of Texas)
---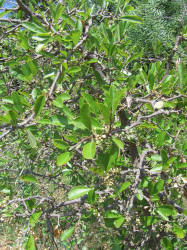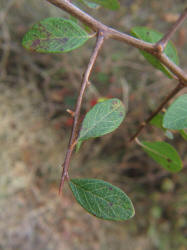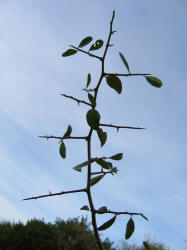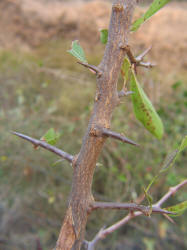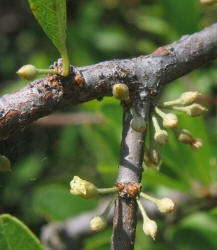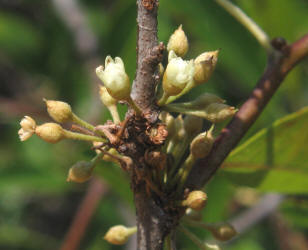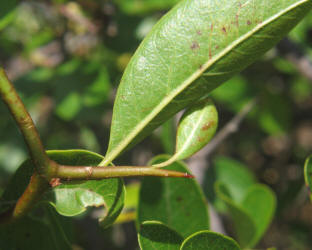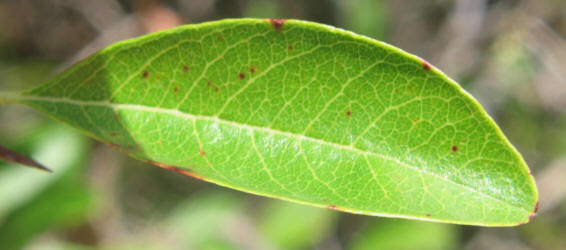 Rhamnaceae - Buckthorn family
Edwards Bluewood Condalia hookeri var. edwardsiana (Condalia obovata var. edwardsiana)
Twigs end in a very sharp thorn. Leathery leaves are a long teardrop (spatulate), 1/4"-11/2" long. This bush can become an impenetrable thicket about 10 feet tall. Missed the flower and fruit. Tiny flat flowers do not have petals. They are good bee food. Fruit is a shinny black droop, 1/4" wide with a flattened apex. It makes good jelly and is loved by birds. Light red hardwood yields a blue die and is also used as a hot firewood.
Photos taken in Taylor County, Texas, November 2005, July 2007
(Native of Texas)
Similar Species
Bluewood (Brazilian Bluewood) Condalia hookeri var. hookeri (Condalia obovata)
Leaves are rounder. Plant grows to 30 feet tall.
---
Email wildflowers"at"catnapin.com
to reduce spam, change "at" to @
please be specific